Nomadland
Thank you for rating this movie!
Read your review below. Ratings will be added after 24 hours.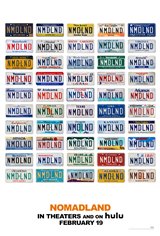 ---
Please rate between 1 to 5 stars
Showing 1 to 2 of 2
February 20, 2021
I just absolutely adored this awesome movie. Wonderful acting, and gut-wrenching heart felt emotion. You will be touched to see this movie.
February 11, 2021
The film is based on the book 'Nomadland: Surviving America In The 21st Century' by Jessica Bruder. The book is a work of investigative journalism and each chapter has a different topic. Half of the book focuses on nomadic living, and the other half is actually undercover reporting. Men come and go, cities rise and fall, whole civilizations appear and disappear; the earth remains, slightly modified. The earth remains, and the heartbreaking beauty where there are no hearts to break. We sometimes choose to think, no doubt perversely, that man is a dream, thought an illusion, and only rock is real. We've always been deeply drawn to the open road, an idea we find to be quintessentially American; the endless search for what's beyond the horizon. The film captures a glimpse of it, knowing it's not possible to truly describe 'The American Road' to another person. One has to discover it on one's own. The film uses the classically male/'Western' genre tropes to tell a more universal story of triumph over adversity and the will to survive and adjust one's dreams. There's been this promise made to the baby boomer generation, that if they just did 'X', 'Y', and 'Z', it would all work out by the time they got to retirement age. The safety net has ripped, and many people are now falling through it. And this situation dovetails with the tradition of rugged American individualism. Many of these people who are finding themselves forced into this sort of life are discovering an independence and a new sense of themselves. Beholden to only themselves for the first time in their lives. It's inspiring, of course, in the way that so much in America is so layered and complicated right now. These are people who are redefining 'The American Dream'. The film grapples with this idea. Being a 'Nomad' is a choice, not a circumstance. (Written by Gregory Mann)