MOST CANADIAN THEATRES ARE NOW CLOSED UNTIL APRIL 2, DUE TO COVID-19.
The New Mutants
The New Mutants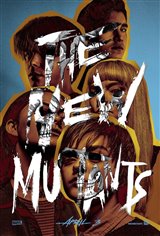 ---
Following an accident, Danielle "Dani" Moonstar (Blu Hunt) awakes at a medical facility to discover she's handcuffed to a gurney. Dr. Cecilia Reyes (Alice Braga) explains that she survived her ordeal thanks to her abilities as a mutant and that she is being treated along with Rahne Sinclair (Maisie Williams), Sam Guthrie (Charlie Heaton), Roberto De Costa (Henry Zaga), and Illyana Rasputin (Anya Taylor-Joy), who each describe their first experiences with their powers.
However, it soon becomes apparent that this facility is a prison for the troubled youths and that Dr. Reyes has ulterior and sinister motives for their treatments. These new mutants must band together and face their past sins in order to escape this house of horrors.
---
Change Location