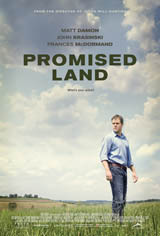 Promised Land
Score:
6.08 / 10
Release Date:
January 4, 2013
Director:
Gus Van Sant
Producer:
Chris Moore, John Krasinski, Matt Damon
Studio:
Entertainment One
Starring:
Matt Damon, John Krasinski, Frances McDormand, Rosemarie DeWitt, Hal Holbrook
Genre:
Drama
Running Time:
106 minutes
invite a friend | write a review | read reviews | Promised Land trailer

Promised Land Synopsis
Steve Butler (Matt Damon) is one of two corporate sales people who arrive in a rural town in search of drilling rights to their properties—a seemingly ideal solution for a town that has been hit hard by the recent economic decline.
Along with his partner, Sue Thomason (Frances McDormand), Steve is faced with a much greater challenge than he initially bargained for, brought on by objections from a local schoolteacher (Hal Holbrook) who brings to light the damage that the proposed actions will have on the town's water supply. Steve's job is even further complicated when Dustin (John Krasinski), a slick environmentalist, joins the fight, bringing both the personal and professional stakes to a boiling point.
Based on a story by Dave Eggers.
The movie Promised Land is currently not playing anywhere in Canada.