The Notebook (Le grand cahier)
Thank you for rating this movie!
Read your review below. Ratings will be added after 24 hours.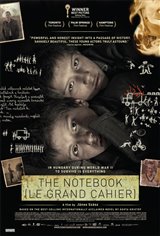 ---
Please rate between 1 to 5 stars
Showing 1 to 1 of 1
June 04, 2017
The Notebook begins as World War II is winding down. As an ally of Nazi Germany and part of the Axis Powers Hungary is on the losing end. The movie focuses on two young twin boys (András and László Gyémánt), whose names we never learn. They are 12 when the movie begins in the summer of 1944 and 13 when the movie ends in the summer of 1945. To ensure their safety their parents (Gyöngyvér Bognár and Ulrich Matthes) place them in the care of the woman's mother, who lives in the countryside running a small farm. The problem is the grandmother (Piroska Molnár) has not seen her daughter in 20 years and clearly has a very low opinion of her. At the end of the movie she is surprised her daughter (after dying in a shell explosion) even had a husband. She is a mean old woman who's rumored to have poisoned her husband and the movie supports this conjecture. The villagers call her "the Witch." At the beginning of the movie the boys hate her because she keeps calling them bastards and is very mean to them. It's clear her grudge against her daughter is carried over to her grandsons to whom she shows no love nor warmth. The boys transform from normal children into two human beings who have hardened themselves both physically and psychologically to deal with the rapidly deteriorating situation in Hungary. To say the boys morph into monsters is not quite accurate. By the end they bear a grudging respect for their grandmother. They avenge an old Jewish man.