The Babadook
Thank you for rating this movie!
Read your review below. Ratings will be added after 24 hours.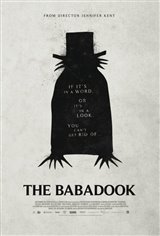 1.37 / 5
Based on 740 votes and 10 reviews
---
Please rate between 1 to 5 stars
Showing 1 to 10 of 10
March 30, 2021
That annoying little bastard should have been tortured to death. That would have made the film worthwhile.
January 18, 2021
Quite possibly the worst horror film ever made. This is the AIDS of horror cinema.
March 09, 2018
Child is absolutely repulsive
June 06, 2017
Child is incredible actor
January 09, 2017
Oh man this was awful! I wanted to see that little brat skinned alive!
December 04, 2016
The most overpraised horror film of the century. Not scary at all. Noah Wiseman's character was totally repugnant. The filmmaker made that kid WAY too obnoxious and by doing so, completely lost control of her film. This is a monster movie, alright. The kid was the monster. One of the most frustrating films ever made.
May 14, 2015
very well done movie...thouroughly enjoyed it! Davis is brilliant in it.
April 06, 2015
Well done! Very unique and genuinely creepy. Don't usually like movies this artsy but this was awesome.
February 19, 2015
I watched this movie online months ago and loved it! If you love scary thrillers then this movie is for you. I'm glad to see it's hitting theatres, because it's a quality movie that deserves to be there!
February 09, 2015
everyone's a critic! so i don't believe anything i say here will have any bearing to anyone who wants to see this or any other film. so i'll just say what i think. As a big horror fan i cant begin to say how bad this movie is. I can barely put it in to words how unpleased i am with film. it truly is awful and i wont go back to it. Moving on !!!!!!