Stage Beauty
Thank you for rating this movie!
Read your review below. Ratings will be added after 24 hours.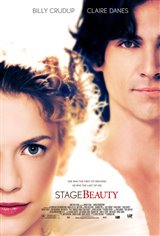 4.38 / 5
Based on 745 votes and 10 reviews
---
Please rate between 1 to 5 stars
Showing 1 to 10 of 10
September 04, 2005
One of the best films of last five years, Danes performance is extraordinary
August 17, 2005
outstanding!
August 12, 2005
Piece of trash! This will likely tarnish the careers of the actors involved, it was such garbage.
August 12, 2005
Horrendous. I don`t know which was worse, the script or the direction. The actors were okay, except that their British accents (Crudup and Danes) kept slipping between upperclass British to lower class British. Weren`t there any actual Brits who could`ve played these roles? And Danes alternated between two expressions -- "Oh, so concerned and distressed" and haughty. Too bad, I thought the premise had potential but it was poorly executed.
May 31, 2005
The performances and portrayal of such historical figures were beautifully done and undeniably excellent. I was enthralled by the performers yet the direction and script were weak.
April 05, 2005
Wonderfully acted movie!
December 22, 2004
excellent
December 18, 2004
this movie was amazing ... 5 stars!!!!!!!!!
November 24, 2004
What a fantastic movie! Best we have seen in a long time. Billy Crudip is a beautiful woman and an even better looking man. He and Clare Danes have great chemistry. Rupert Everett was amazing as King Charles and Tom Wilkinson gives another excellent perfomance. Wonderful scenery and we thoroughly enjoyed the story line. Oscar worthy!
October 26, 2004
This was a beautifully acted movie with a fascinatingly acted main character and great ensemble cast. It has many dimensions, kind of puts a lot of movies to shame. Sexy too!