Lebanon
Thank you for rating this movie!
Read your review below. Ratings will be added after 24 hours.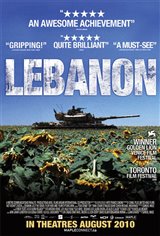 ---
Please rate between 1 to 5 stars
Showing 1 to 3 of 3
September 29, 2010
This unique one-of-a-kind film is based on the director's experiences in a tank during the Israeli-Lebanese conflict in 1982.The film almost entirely takes place within the confines of a grimy Israeli tank,the floor of which is coated with a disgusting pool of slime consisting of urine,sweat,scum,oil,cigarette butts and God-knows what else. As the tank lumbers across the desolate landscape of empty fields and scarred city blocks,the four man crew is jostled and shaken violently about.Horrible atrocities are viewed outside via the periscope.In one poignant scene after a massacre,a survivor(a woman reduced to nakedness and who has lost everything,her home,her family,her dignity) stares directl
September 05, 2010
Wasn't any female characters in the movie, didn't seem real for that reason. One, almost naked, Lebanese wife and mother, made the movie appear sexist. The opening scene of a field of ripe sunflowers was explained before the end, the tank ended up in the field of sunflowers. It was an excellent movie for men interested in tank war but the opening prolonged scene was not relevent, in the end.
August 27, 2010
Seems fairly realistic and brutal, if a little clumsy in its effort to show the horrors of war one after another. The gunner seems like the unluckiest man alive! Consistent narrative but no real thesis, it's like a slice of a tank crew's life in the war in the early 80s; a window into their world. In spite of the contrived feeling at times, this is different from the majority of Hollywood movies. I would recommend it to those who can stomach realistic violence. It is rather enlightening.