How She Move
Thank you for rating this movie!
Read your review below. Ratings will be added after 24 hours.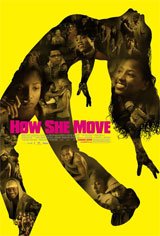 2.26 / 5
Based on 114 votes and 10 reviews
---
Please rate between 1 to 5 stars
Showing 1 to 10 of 10
July 27, 2008
i think this was one of the best movies of my life. It was even better than step up i know how to dance like the streets on some of these shows but that was incredible. There better be a second one with the same Characters. Great moves. Love ya all. Sincer, Lisa
February 12, 2008
A canadian movie that got reckognized! yay. I luved it. The dancing was HOT!
February 04, 2008
Piece of steaming crap, avoid this stupid pointless tripe like the plague, really the worst movie so far this year. - The Methos
January 31, 2008
The year's best movie.
January 29, 2008
This movie was borderline embarrasing for the toronto community. The truth be told, we have better talent to showcase then this. They obviously did not have enough funding for this movie and the moves really were not moving! The characters were not even believable. The fake west indian accents just made things worse. There were some good morals to learn from it but that's about it! Sorry folks but this is a failure.
January 26, 2008
Stinkoramma formula movie junk without any new steps.
January 26, 2008
I really don't see what so special about yet another film dealing with a character living in the ghetto, and despite overwhelming odds 'makes it'…by dancing, singing, rapping, stomping…One may think these scripts are rolling of the assembly line…Unfortunately the movie does not really 'move' you, primarily due to the fact that this theme has been exhausted.
January 26, 2008
This movie blows...enough said!!
January 26, 2008
Dancing good but plot has no substance
January 25, 2008
i loved it!!!!