Cuties (Netflix)
Thank you for rating this movie!
Read your review below. Ratings will be added after 24 hours.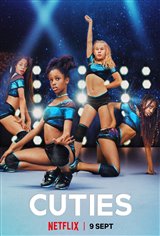 2.00 / 5
Based on 16 votes and 8 reviews
---
Please rate between 1 to 5 stars
Showing 1 to 8 of 8
March 27, 2021
The kind of movie Jared Fogle would love.
November 02, 2020
The message this movie is actually putting forth is that the western world is decadent and depraved and only conservative Islam can save the world from such filth. This is an insidious work, but not for the reason people think.
October 09, 2020
Someone should delete these two fake 5 star review. This is not acceptable. The authors of the movie should be investigated, and someone should find out where all the videos from the casting ended.
October 08, 2020
The adults who made this possible from filming to showing on the internet should be prosecuted for child porn.
September 28, 2020
its a go movie for parents to watch their child and show them how kids be acting when people not around to watch them and also show how kids and go from being innocent to being grown in a matter of time but im just glad that she learned that what she was doing was wrong and went back to her mother
September 28, 2020
i liked the movie because it shows how kids act in the genaration and how fast the switch up when their partents catch them and show how kid act when their around grown kids their age
September 22, 2020
You got the genre wrong. It´s porn. BTW the movie is just the tip of the iceberg, I bet the footage of 600+ little girls twerking and doing other disgusting things during the casting are already on the darkweb. The degeneracy of the western civilization is unbelievable.
September 16, 2020
They take little girls and have them act out what strippers/porn stars do. One of the little girls even watches a porn movie to get ideas on what to incorporate into their dance. They don't have a dance instructor, they don't take lessons, they just grind and suck their fingers. It should be removed from Netflix, and any adults who had anything to do with getting these young actors to wear skimpy clothing and move around like this should be ashamed. Most of all, their parents.