Carol
Thank you for rating this movie!
Read your review below. Ratings will be added after 24 hours.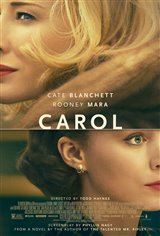 3.85 / 5
Based on 28 votes and 8 reviews
---
Please rate between 1 to 5 stars
Showing 1 to 8 of 8
February 04, 2016
It's as boring as watching paint dry. Terrible director. When they do the token lesbian scene, he throws in violins. Little or no erotic or emotional tension. Lead actresses are straining to make sense of a dull, uninspired script. Poor attempt to show the prejudice that existed about lesbian love in the 1950s with little success. Does not capture any of Highsmith's perverse sense of foreboding or tension. Plus, the ending is saccharine sweet. Cheap quasi- emotional drivel all around.
January 12, 2016
Excellent direction and terrific photography highlight this adaptation of Patricia Highsmith's novel "The Price of Salt". Rooney Mara plays Therese a sales clerk with theatre ambitions who catches the eye of older elegant socialite Carol (Blanchett) with whom she begins a romantic relationship. The film is good, but I found the three main characters somewhat unbelievable and couldn't get into the story as much as I wished. Still the film is relatively devoid of cliche and certainly a good offering for mature audiences.
January 06, 2016
Beautiful, dream-like film. Excellent performances all round and stunningly directed.
December 29, 2015
It feels that like the story was written especially for Cate Blanchet. She was incredible! Having said that, it's not for everyone. (It's not a fast pace Hollywood film.)
December 28, 2015
A piece of tripe
December 26, 2015
Slow but good acting from Kate. She was very convincing. I am sure she will be nominated for an oscar
December 16, 2015
A touching story of love in an uncertain time between an older woman and a younger woman. They desperately had to hide themselves,with their obvious desire to be together despite all odds. It all felt right to them and they were willing to take the chance to make it work. Slow paced but gorgeous 50's clothes & sets. Bravo ladies !!!!
December 14, 2015
I was not impressed with this movie. Stars didn't seem to have any chemistry. It was slow moving and a waste of 2 hours of my time.