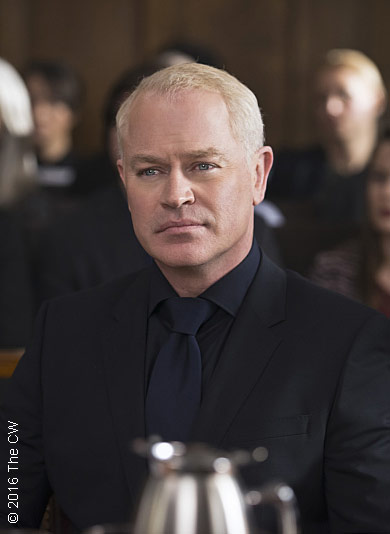 Neal McDonough, who has played starring roles on series such as Arrow (pictured at left) and Suits, and appeared in the feature films Captain America: The First Avenger (2011) and Proud Mary (2018), won't kiss his co-stars in any of his roles.
During an interview with Closer Weekly, he said, "I won't kiss any other woman because these lips are meant for one woman."
That woman is his wife of 15 years, former model Ruvé Robertson. They met in London while he was in England filming the Golden Globe-winning TV mini-series Band of Brothers, and he says it was love at first sight. He immediately called the woman he was dating at the time and told her, "I'm sorry, it's not going to work out with us anymore -- I just met the woman I'm going to marry."
Luckily, his stance hasn't cost him too many roles. When he landed a recurring role as Dave Williams, the husband of Nicolette Sheridan's character on Desperate Housewives, he told creator Marc Cherry he couldn't kiss anyone, and Cherry finally agreed, saying "All right, I'm just going to have to write better."
However, Neal was let go in 2010 after three days of filming on the ABC show Scoundrels because his character was expected to do sex scenes with co-star Virginia Madsen. "I was [surprised], and it was a horrible situation for me," he said about being fired. "After that, I couldn't get a job because everybody thought I was this religious zealot. I am very religious. I put God and family first, and me second. That's what I live by. It was hard for a few years. But I was not going to lose the fight. And it worked. My career has been phenomenal."
Since then Neal has played lead roles on numerous TV series, including Project Blue Book and Legends of Tomorrow, and has regularly been seen on the big screen. His upcoming feature films include the upcoming crime drama The Jesuit alongside Tim Roth and Paz Vega, and the comedy The Buddy Games with Josh Duhamel and Dax Shepard. ~Alexandra Heilbron