ALL THEATRES ARE CLOSED UNTIL FURTHER NOTICE, DUE TO COVID-19.
Royal Opera House: La Bohème
Royal Opera House: La Bohème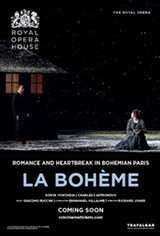 ---
La bohème explores the love affair between the penniless poet Rodolfo and the seamstress Mimì, contrasting it with the more light-hearted affair between the painter Marcello and the singer Musetta. Mimì is gravely ill with tuberculosis and she and Rodolfo decide to separate so that Mimì can find a wealthier lover to provide her with the care she needs.
They are reunited in Mimì's final hours when she returns to the only man she ever loved.
Change Location