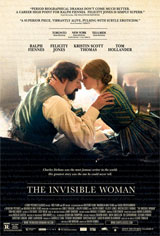 The Invisible Woman
Release Date:
January 17, 2014 - Toronto, Montreal, Vancouver
Director:
Ralph Fiennes
Producer:
Christian Baute, Gaby Tana, Stewart Mackinnon
Studio:
Mongrel Media
Starring:
Ralph Fiennes, Felicity Jones, Kristin Scott Thomas, Tom Hollander, Joanna Scanlan, Perdita Weeks, Amanda Hale, Tom Burke, John Kavanagh, Michael Marcus
Genre:
Drama
Running Time:
111 minutes
invite a friend | The Invisible Woman trailer

The Invisible Woman Synopsis
In 1885 the newly reinvented Nelly (Felicity Jones) is a happily married mother and school teacher. Yet, she's haunted by the past. At 18, she met Charles Dickens (Ralph Fiennes), then 45 and at the height of his career. Nelly was a budding actress who had appeared in a play he'd adapted – and the two embarked on a relationship that had to be kept secret, given that he was married with 10 children.
Based on Claire Tomalin's nonfiction book The Invisible Woman: The Story of Nelly Ternan and Charles Dickens.
The movie The Invisible Woman is currently not playing anywhere in Canada.