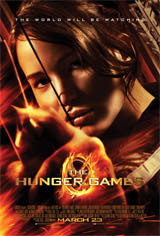 The Hunger Games: The IMAX Experience
Score:
8 / 10
Release Date:
March 23, 2012
Director:
Gary Ross
Producer:
Jon Kilik, Nina Jacobson
Studio:
Alliance Films
Starring:
Jennifer Lawrence, Josh Hutcherson, Liam Hemsworth, Woody Harrelson, Elizabeth Banks, Lenny Kravitz, Stanley Tucci, Donald Sutherland, Wes Bentley, Toby Jones, Alexander Ludwig, Isabelle Fuhrman, Amandla Stenberg
Genre:
Action
Running Time:
142 minutes
invite a friend | write a review | read reviews | The Hunger Games: The IMAX Experience trailer

The Hunger Games: The IMAX Experience Synopsis
Set in the future, 16-year-old Katniss Everdeen is living with her mother and little sister in what's left of North America, in one of 12 districts all being run by the Capitol. Despite mastering the skill of hunting and trapping edible plants, Katniss still struggles to keep her family from going hungry.
Each year, the names of all residents between the ages of 12 and 18 are entered into a lottery and two names, one girl and one boy, are chosen at random from each district to compete in the televised Hunger Games. The 24 children must try to kill each other off and the last one standing is rewarded by the Capitol with a feast of food.
When her little sister's name is selected, Katniss steps up to take her place in the deadly competition.
Based on the first novel of Suzanne Collins' bestselling "The Hunger Games" trilogy.
The movie The Hunger Games: The IMAX Experience is currently not playing anywhere in Canada.