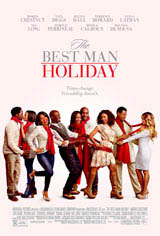 The Best Man Holiday
Score:
8.61 / 10
Release Date:
November 15, 2013
Director:
Malcolm D. Lee
Producer:
Malcolm D. Lee, Sean Daniel
Studio:
Universal Pictures
Starring:
Morris Chestnut, Taye Diggs, Regina Hall, Terrence Howard, Sanaa Lathan, Nia Long, Harold Perrineau, Monica Calhoun, Melissa De Sousa
Genre:
Comedy
Running Time:
122 minutes
invite a friend | write a review | read reviews | The Best Man Holiday trailer

The Best Man Holiday Synopsis
In this sequel to The Best Man, we find that while football star Lance (Morris Chestnut) is about to break an all-time NFL record, author Harper Stewart(Taye Diggs), the best man at Lance's wedding, has fallen on hard times. His novels just aren't selling, and his plans to start a family with his wife, Robin (Sanaa Lathan), just aren't coming to fruition.
When they and their college friends finally reunite over the Christmas holidays, they will discover just how easy it is for long-forgotten rivalries and romances to be ignited.