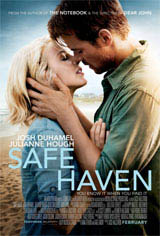 Safe Haven
Score:
8.02 / 10
Release Date:
February 14, 2013
Director:
Lasse Hallström
Producer:
Marty Bowen, Nicholas Sparks, Ryan Kavanaugh, Wyck Godfrey
Studio:
Entertainment One
Starring:
Josh Duhamel, Julianne Hough, Cobie Smulders, David Lyons, Noah Lomax, Mimi Kirkland
Genre:
Drama
Running Time:
115 minutes
invite a friend | write a review | read reviews | Safe Haven trailer

Safe Haven Synopsis
When a mysterious young woman named Katie (Julianne Hough) washes up in the small North Carolina town of Southport, she is determined not to make personal relationships. That is, until she meets Alex (Josh Duhamel), a kind-hearted widowed store owner, struggling to raise his two children. When Katie feels herself falling for him, she must choose between familar safety and the perils that come with love.
Based on the novel by Nicholas Sparks.