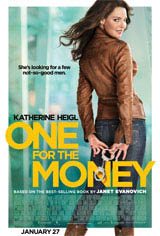 One for the Money
Score:
6.08 / 10
Release Date:
January 27, 2012
Director:
Julie Anne Robinson
Producer:
Gary Lucchesi, Sidney Kimmel, Tom Rosenberg, Wendy Finerman
Studio:
Entertainment One
Starring:
Katherine Heigl, Jason O'Mara, Daniel Sunjata, John Leguizamo, Sherri Shepherd, Debbie Reynolds
Genre:
Comedy
Running Time:
106 minutes
invite a friend | write a review | read reviews | One for the Money trailer

One for the Money Synopsis
Stephanie Plum (Katherine Heigl) is a proud city girl with plenty of attitude. She's also newly-divorced with no prospective employment. The only way for her to turn things around is to accept a job at her sleazy cousin's bail bonding company, just long enough to make some fast cash. Her first assignment? Former vice cop and murder suspect Joe Morelli (Jason O'Mara), the same Joe Morelli who broke her heart in high school. Stephanie thinks she's hit the jackpot - not only will catching him be the sweet revenge she's been waiting for but she'll also get a hefty pay cheque out of it. As she learns the ropes of what it takes to be a recovery agent, she also realizes that her new job might not be as easy as she planned.
The movie One for the Money is currently not playing anywhere in Canada.