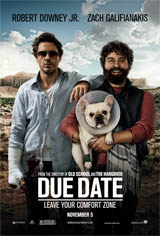 Due Date
Score:
6.82 / 10
Release Date:
November 5, 2010
Director:
Todd Phillips
Producer:
Dan Goldberg, Todd Phillips
Studio:
Warner Bros. Pictures
Starring:
Robert Downey Jr., Zach Galifianakis, Michelle Monaghan, Juliette Lewis, Jamie Foxx, Danny McBride, RZA , Matt Walsh
Genre:
Comedy
Running Time:
95 minutes
invite a friend | write a review | read reviews | Due Date trailer

Due Date Synopsis
Peter Highman (Robert Downey Jr.) is an expectant first-time father whose wife's due date is a mere five days away. As he hurries to catch a flight home to Los Angeles from Atlanta to be at her side for the birth, his best intentions go completely awry when a chance encounter with aspiring actor and disaster-magnet Ethan Tremblay (Zach Galifianakis) leads to the two of them being tossed off the plane and placed on a no-fly list... while Peter's luggage, wallet and ID take off without him.
With no alternatives in sight, Peter is forced to hitch a ride with Ethan and his canine traveling companion on what turns out to be a cross-country road trip that will destroy several cars, numerous friendships and Peterís last nerve.
The movie Due Date is currently not playing anywhere in Canada.